On
Sale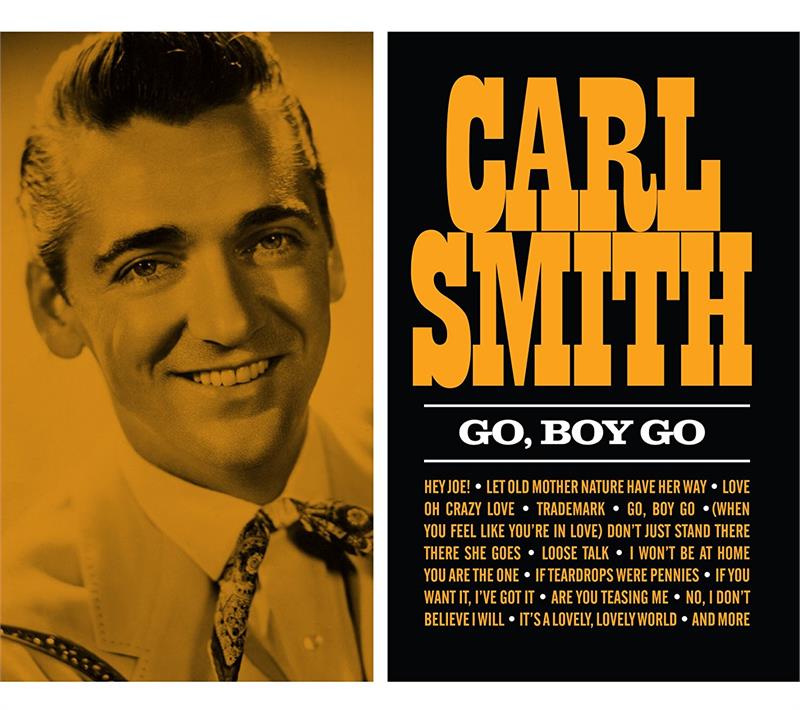 Carl Smith - Go, Boy Go (Audio CD) 11/17/17 [Digipak] [28 TRACKS] FREE U.S. SHIPPING!!
$

13.98
28 Tracks Expanded Edition.
Honky tonk idol Carl Smith is an underappreciated giant. The father of iconic firebrand Carlene Carter, Smith was a prolific 1950's hit maker whose persuasive vocals put across everything from weepers to uptempo goofs to love songs with impressive facility, and he embodied post-war Nashville's perfected musical standard with boundless grace.
Condition: NEW.
TRACK LISTING
1 Hey Joe!
2 Let Old Mother Nature Have Her Way
3 Love oh Crazy Love with June Carter
4 Trademark
5 Go, Boy Go
6 (When You Feel Like You're in Love) Don't Just Stand There
7 There She Goes
8 Loose Talk
9 Wicked Lies
10 I Won't Be At Home
11 You Are the One
12 If Teardrops Were Pennies
13 If You Want It, I've Got It
14 Are You Teasing Me
15 No, I Don't Believe I Will
16 It's a Lovely, Lovely World
17 Baby I'm Ready
18 Time Changes Everything
19 More Than Anything Else in the World
20 Back Up Buddy
21 Do I Like It
22 Dog-Gone It, Baby, I'm In Love
23 If I Could Hold Back the Dawn
24 Kisses Don't Lie
25 I Betcha My Heart
26 Just Wait 'Til I Get You Alone
27 Lovin' is Livin'
28 Washing my Dreams in Tears
29 If You Do Dear
30 Before I Met You